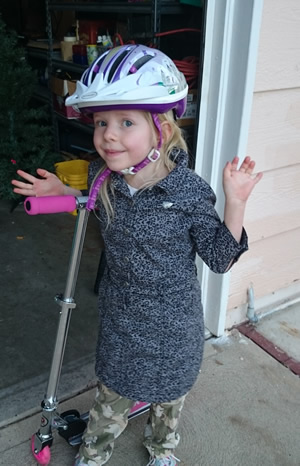 October 2nd is the annual Olander Osprey Walk-a-Thon
Last year we raised nearly $200 for Olander. Siri got a sweet pink Razor for her efforts. Thank You everyone who donated!!
The Osprey Walk-a-Thon is the main fund-raising event for Olander's Parent Teacher Organization, PE Department, and wellness programs. The event will allow students to raise money for their school in a fun and active way.
---
Donate right here with a CC or PayPal:
If you want to donate cash email me and I will arrange to pick it up.
100% of all donations will go to Olander Elementary, minus PayPal fees. If your PayPal receipt will not suffice as a form of receipt, email me and I will provide you with a better receipt from Olander. My company GreenHostCo.com will be collecting and sending the funds to Olander, as well as donating.

On Friday the 3rd, students will run or walk laps around the course at the school. students who meet their grade level goal will have their picture taken and place on a special board outside the gym.
The Walk-a-Thon is not lap based, donations are fixed. Students receive prizes based on how much money is collected. They are fun prizes and they start at the $25 level and go up by tiers from there.
Siri and I thank you!